A sunny morning following a hard rainy night seemed to be a good start for our nice tour. It took a long time for Thuy and me to come back, so we were a little bit nervous.
Before the tour, Hanoikids' Tour Operation Department forwarded an email from U.S. Embassy Hanoi to us and all the information we had was a tour with "a high-level visitor for the US Embassy". It was just until this Friday could we know the name of our guest. As a habit of searching for information about partners of the External Relations Department, I found a lot of interesting words about him. Thuy and I felt very lucky when we had the chance to meet and learn from an important person from The USA Government.
We waited for our guest at the gate of the Temple of Literature and it was easy for us to see him because of searching his images before. We were surprised when we found out that he walked from Hanoi Sofitel Metropole Hotel to the Temple of Literature and went without a bodyguard. This made us feel more comfortable and it was just like any other tours we have ever taken which allowed us to spend a lot of time going around and talking with him like a friend.
We visited the Temple of Literature, Ho Chi Minh Museum, Hoa Lo Prison, and Hoan Kiem Lake. In these places, we can share our points of view, what we know about the long history of Vietnamese education, our high appreciation for Uncle Ho, thinking of young Vietnamese about the Vietnam War, and problems related to China as well. Vietnamese love peace, freedom and would like to make friends with all the countries around the world. We are very happy to hear our guest say that the relationship between Vietnam and The USA is getting better and better.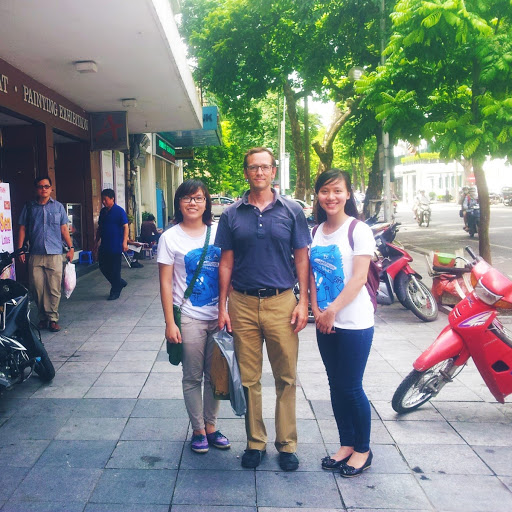 Meeting with Mr. Evan gave me a lot of thinking and precious experiences from an excellent and caring man. He is a senior political scientist of President Barack Obama, especially in Asia affairs and China issues. Thuy and I were impressed by his high-academic background when he holds a PhD in International Relations from the London School of Economics and Political Science. He also achieved a Fulbright Scholarship. I felt very lucky when I could get experiences from him about International Relations – one of the fields that I want to study to get a Master Degree besides Economics or Global Communication. I was inspired by his sharing. I know it will be a long and hard way but now I have had great efforts to try my best to achieve my plans.
Besides, we see that he is such a caring man. Traveling for work but he still tries to go around to buy some souvenirs for his family. Hope he will have a good time in Hanoi. I also felt lucky when taking this tour with my partner in Leaderboard. Thank you so much for the sweet ice cream as a gift for my birthday!
Thanks to the Tour Operation Department for giving us this nice tour. It is like a special gift for my birthday. I hope our club will receive many more tours like this and Hanoikids will greatly contribute to the development of good relationships between Vietnam and The USA as the slogan: "Be a little ambassador of Hanoi".
> Blogs > Tour Records > Tour with…